Why Do I Get Heel Pain in the Morning?
Ever wondered why your experience your heel pain when you first get out of bed in the morning?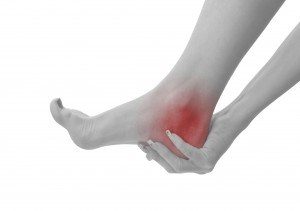 Well this type of heel pain is in fact a very common symptom of plantar fasciitis.  The plantar fascia runs underneath the foot from the heel to the base of the toes and can be likened to a rubber band.  Overnight the feet are rested and relaxed.  In the morning as you first put your foot to the floor, the fascia is under maximum tension with body weight resulting in a sharp, stabbing pain that is often described as 10 out of 10 pain.  After a few steps the fascia 'warms up' as blood gets flowing to the area and becomes stretchier – more elastic like a rubber band.  This pain can also occur after periods of rest from sitting in the car, watching TV or hours at a desk job.
Although pain may be alleviated throughout the day, some pain may persist for the rest of the bad with less intensity.  When this pain, however, is left untreated, the pain can become chronic or ongoing and significantly impact lifestyle.  At the Heel Pain Clinic our podiatrists have the latest techniques and equipment available to treat your heel pain.